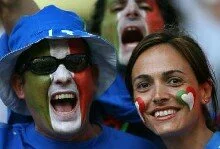 By Paul Holmes
BERLIN, July 6 (Reuters) - It is getting on for midnight and a heated discussion is under way among some of the regulars at La Vigna, an Italian restaurant-cum-wine bar in Berlin that Germans would call 'gemuetlich' (cosy).
France have just beaten Portugal for a place in the World Cup final against Italy on Sunday but the talk around the table among members of the Club Italia amateur soccer club in the German capital is not of their national team's chances.
Instead, in a very Italian way, they are arguing about whether the Germans they live among begrudge them Italy's semi-final triumph against the hosts on Tuesday night.
Owner Tatiana Canali, who has just poured a second round of the bitter, syrupy liquors that Italians so like to drink to help digest a good meal, insists there are no hard feelings.
"There were about 80 people in here watching the game on Tuesday and half the Germans were for us. People passing by even stopped in to congratulate us. I didn't expect that," she says.
Gianni Capolei, a 49-year-old in a soccer shirt and shorts who has shown up with his Italian wife and two young daughters, is having none of it.
A graphic artist from Viareggio on the Tuscan coast, he says Germans spat at Italians when he and his friends from Club Italia (club-italia-80ev.de) paraded down the Kurfuerstendamm boulevard in Berlin to celebrate.
"I still call them 'these people' even though I've been here for 31 years," said Capolei. "We taught them how to eat and how to dress and last night they treated us like dirt."
More than one million nationals from the 31 countries that began the World Cup alongside the host team live in Germany but the Italians are easily the biggest group, with 540,000 citizens who have settled there.
Second only to Turks in numbers, Italians were the first "guest workers" to come to Germany. An agreement struck in 1955 gave Italians, mainly from the poor south, access to work and Germany a labour force to help power its economic miracle.
TOUGH TIMES
The early years, long before European Union integration ensured freedom of movement among citizens of member states, were hard on the young Italians, most of them men, who travelled north to the car factories and steel plants of West Germany or worked in the many Italian restaurants that sprang up.
Few if any spoke German; many lived in uninviting hostels, sometimes behind barbed wire; many Germans would call them "Spaghettifresser" or a spaghetti eater.
Much has changed since, with Italians widely regarded as well integrated, though some things still rankle.
Tuesday's mass-circulation newspaper Bild pictured the players of the Italian squad that would face Germany superimposed on slices of pizza. "Pizza Arrivederci!" it said.
Carlo Lapadula, a 40-year-old who has lived in Germany since the age of eight and works in marketing, says that when he went to work on Wednesday morning, none of his German co-workers congratulated him on Italy's victory.
Then again, he admits he entered the office holding up an Italian newspaper with a banner headline trumpeting Italy's win.
"Gibt's noch Fragen?" (Any more questions?), he shouted in his unaccented German. "They left me alone after that," Lapadula said.
WHERE IS HOME
Yet there is an ambivalence among many Italians about their place in Germany. Giovanni Bruno, the chairman of Club Italia, illustrates it well.
Now 46, he came to Berlin with his brother in 1981 thinking he would earn some money as a waiter and return to his native Brindisi in southeast Italy after a year or two with a nice car.
Instead, he is still here, having earned a university degree, married a German woman with whom he has two children and set up his own software company.
"In a way, the World Cup final is a bit like playing at home when it comes down to it," Bruno said. "Germany is a second home for every Italian here, though even for me Germany will never take the place of Italy in my heart."
The ambivalence is evident on Tatiana Canali's menu. Wednesday night's special was ribbon pasta with a covering of Speck, a cured German ham, and Pfifferling mushrooms that are a hallmark of German cuisine.
It is even evident in Capolei. Though he doubts the Germans will ever fully accept the Italians in their midst, he cannot see himself going home to Viareggio.
"What am I going to do in Italy?" he asks. "I am 49 years old and I have been here since I was 18. When I go to Italy I am even more of a foreigner than I am here."